Our Projects :-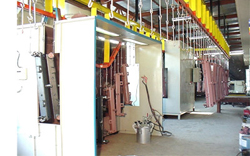 Conveyorised Paint shop for Auto Parts
M/s Reliable Autotech Pvt.Ltd.-Mahindra
(Tractor) Vendor
MIDC Ambad Nashik
Mahindra & Mahindra tractor Front
axle manufacturer
Our scope –Complete conveyorised Paint shop
Year of installation -1999.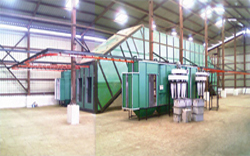 M/s Rewale Engineering –Mahindra Genset Manufacturer
MIDC Bhosari Pune.
Mahindra Genset Canopy Manufacturer
Our scope –Two conveyorised Powder Coating lines with
common Camel back oven
Year of installation –2009

M/s Silver Techno Mech -Godrej Vendor

Mahape Navi Mumbai
Godrej Vendor for Cupboards & modular Kitchens. Our scope –Complete conveyorised turn-key plant with Liquid & Powder Coating

State of the Art PowderCoating Plant with -Conveyorised Powder Coating plant Wagner Germany make Powder applicators Online Oil Skimmer, Phosphate filter
10 tank Hot pretreatment
Overhead transporter

Complete Auto Powder Coating plant with Online Spray Phosphating, Dry off Oven & Reciprocators
Al Meer Industries for Control Panels-Kuwait

Electrical panel manufacturer
Our scope –Complete Auto conveyorised Powder coating plant with Spray Pre-treatment (Nano), Dry off oven, Reciprocators
Year of installation -2005

Al Extrusion PVDF Coating Plant with Powder Coating option

M/s M.J Coaters Pvt Ltd.
Mahape Navi Mumbai
Siemens vendor,
Largest job coater in Mumbai
Our scope –4 sets of Complete
conveyorised turn key plants
One PVDF Coating plant.
Years of installations –2001, 2002,
2003 & 2005 for 4 plants.
M/s Atlas Copco Ltd. –Compressor Division

Pune Mumbai Old Highway Phugewadi Pune
Compressor manufacturer
Our scope –Fully automatic Paint booth cum oven
Year of installations –2008

Compact Conveyorised Painting plant for Plastic Parts

M/s Hands International Colombo Sri Lanka
Helmet manufacturer for Sri Lankan Army.
Our scope –Complete Conveyorised paint shop
Year of installations –2004


Conveyorised plant for Heavy long Sections

M/s Demag India Ltd. Hinjewadi –Crane Manufacturer
Plant -Chakan-Shikrapur Road M/s Marc Coaters. .
EMS track coating.
Our scope –Complete conveyorised Powder coating plant with
I-beam conveyor
Year of installations –2009

Custom built plant for FRP Pipe coating supplied to Pentair Water Goa
14 mtr Down draft paint booth with automatic doors,
14 mtr reciprocator, 90 KW fully auto retractable IR oven.
Cycle time 2 min.
M/s Rohit Exhaust Systems –
Bajaj, & IKEA Vendor

MIDC Waluj Aurangabad
Bajaj vendor, Silencer, MFN parts
Manufacturer, 3 wheeler coating.
Our scope –Compete conveyorised paint shop with pressurisation.
3 Paint booths, ASU,
Camel back oven, conveyor
Year of installations –2006

Conveyorised Powder Coating plant for Sca foldings Manufacturer

M/s Pranav Constructions Ltd.
Scaffolding Manufacturer
Badlapur Mumbai
Our scope –Turn Key Powder Coating
plant with17 tank PT for M.S. & Al
Large Paint Booth for Steel Structures
Year of installations –2009

M/s Alf Engineering
Zahirabad Andhra Pradesh-Mahindra Vendor

Chasis Manufacturer for Mahindra LCV's.
Our scope –Paint shop with down draft booth, batch oven.
Year of installations –2002

Large capacity Al Extrusion coating plant with auto dry off oven inline with Pretreatment



M/s Innocoats Pvt. Ltd Al Extrusion coating.
Peenya Indl Estate Banglore Karnataka.
Our scope –15 TPD Al Sec. coating plant , Batch dry off oven etc.
Year of installations –2009

Custom built painting lines synchronised with assembly line

M/s Spicer India Ltd.
Kuruli, Nashik Highway Pune. -Tata Vendor
Rear axle manufacturer for Tata Ace.
Our scope –Paint shop with paint booth, automated operator lifts,
Syncronised with assembly line by auto transfer on conveyor.
Year of installations –2005

Al Extrusion Auto Powder coating plant with batch cum dry off oven


M/s Ajit Coatings Pvt. Ltd
Tumkur Karnataka. Al Extrusion coater.

Our scope –Complete conveyorised Powder coating plant with hot pretreatment system, batch type dry off cum curing oven, auto powder booth, Reciprocators etc.
Year of installations –2009